Hackfest 2013: The Desolation of Golf
John Kast did a pathetic job defending his 2012 Birdie King Championship, in his own backyard.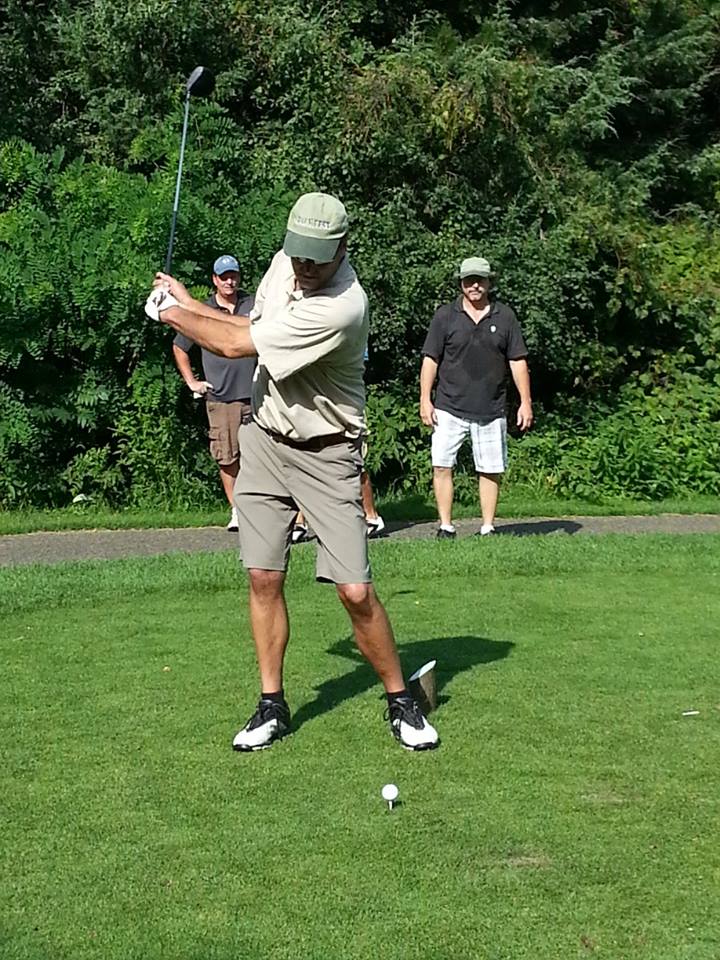 The entire Hackfest family would like to express its sincere thanks to John and his (much) better half Teri for hosting an incredible weekend of golf and merriment. The Saturday evening party was amazing, as were the wonderful lodgings. Thanks again, John and Teri!
Birdie King
Trent Shipley is our new Birdie King. Congratulations, Trent!
Participants
This year's participants, in alphabetical order: Mike Allerding; Duane Anderson; Jeff Carter; Brian Dukart; Tim Hidani; James Hove; Brett Johnson; John Kast; James Kenealy; Chaz Larson; Roger Mahre; Gary Mullen-Schultz; Eric Petersen; David Read; Tom Sandberg; Mike Sauer; Trent Shipley;
Results
Here are the results from the 2013 Hackfest.
Note: Due to a screw up on the part of our beloved Artistic Director, 'Festers may notice a difference in these results compared to those announced at the closing ceremony (which was held immediately preceding the farewell concert performed gratis by Led Zeppelin). A few participants have changed positions; note that no money will change hands over this blunder by the AD. When Gary, "Keeper of the Hackfest Lore," asked the Artistic Director whether he wanted to express any regrets about this incident, Brett simply replied as follows: "tell the proletariat riffraff that they can kiss my ass."
The original handwritten results are here.
Rules
Here are the rules used in the 2013 Hackfest.
Official Invitation from the Artistic Director
My Dearest Hackfester,
All Hail John Kast, the Birdie King! Also, congratulations to new dad, Birdie King-recently-removed, Mike Allerding. Baby boy born on Tim's birthday (I think; August 9).
You, pathetically, are once again invited to participate in the Hackfest. The dates of this year's event are September 7th and 8th 2013. The event will be hosted at the Kast ranch east of St. Paul. Contact John or Tim (I guess but don't know that Tim will bring his RV) with accommodation requests if you want to sleep indoors. Otherwise, feel free to bring a tent and sleeping bag.
The courses will soon be reserved. There will be golf and a Champion's Dinner on Friday. Contact Gary if you are interested in Friday golf (Eric, John, Tim, and Brett will for sure be playing their usual pre-fest round that day, Mike A wants to play Friday, and possibly David Read). Gary has/will soon have this year's rules posted on the website, and the courses will be added as soon as confirmed.
Let me know as soon as possible if you know you cannot attend.
Rather than the usual lame attempt at humor I have provided in past Hackfest invites, because I will soon need to look for employment, I enclose below for your comments, a draft resume (cobbled from a lot of great ideas I found on that intraweb thing) that I hope will get me noticed and employed. Please respond with any constructive criticism. I look forward to seeing (most of) you in a couple weeks.
Brett Johnson
Artistic Director
Hackfest 2013
OBJECTIVES
I want to get money and other benefits and so will claw my way to the top using any means necessary . . . but then be a fair and just ruler, and bring your company to new heights, or whatever. Forget all the other candidates, I am the BEST.
EDUCATION
More degrees than a thermometer (no, really, five degrees after high school, so many I can use the diplomas to start fires if I want)
Almost a certainty that I'm smarter than you and everyone you employ
EXPERIENCE
Phones and computers and shit? Check.
Organizing shit? Doublecheck
Customer support and shit? Mega-check
Supervising people and shit? MOTHERFLIPPING CHECK ALL OVER THAT.
PERSONAL ATTRIBUTES
Cat-like reflexes -- now you see me, meow you don't
Possible ESP
Devilishly handsome: prom king as a junior in high school
Know when to hold, know when to fold
Pleasant aroma
Horse-like laugh (optional)
Pinpoint accuracy: two holes-in-one; once killed an owl with a ninja star
Not bad at "sexy" dancing
More than 30-years experience in drinking at what has often been described as a "professional" level
Potentially trustworthy around members of the opposite sex
52 years old, but the facial hair of a 14 year old
Can eat a LOT at one sitting
Good for office morale: when someone cries I am all sympathetic and shit
I have probably been to a spa near your building before a few times so I already know the area
Created in God's image
REFERENCE
Brett Johnson--who better to tell you about me than . . . me. Need my transcripts or a more detailed resume? Not when you got my FACTS! No need for an interview, trust me, you will love me. Holla!
Brett Johnson
Artistic Director
Hackfest 2013
Golf Venues
Saturday's rounds took place at St. Croix National. The Birdie King lost his cherry at 10:30AM, sharp. Directions from the Kast residence here.
Sawmill had the honor of hosting the final round of the 2013 Hackfest. The first group teed off at exactly 8:30AM. Directions from the Kast residence here.
Champion's Dinner
Sal's Angus Grill again in Withrow (3 miles from BK's home)
12010 Keystone Ave
Withrow, MN 55082
Lodging
The Birdie King and his (much) better half, Teri, thankfully had no memory whatsoever of what happened last time they hosted the crew.
The Kast ranch is located here.
BK's address:
10815 140th St N.
Hugo, MN 55038